Prayer Advocates: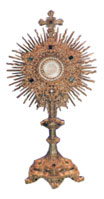 All Kolbe Members are Prayer Advocates,
involved in daily intercession and spiritual formation
to deepen our loving, personal relationship
with Jesus, Mary, and one another.
We promote devotion to Jesus Christ, the Living God,
present in the Holy Eucharist. Consecrated to Mary,
fortified through prayer, the sacraments and daily faith formation,
we witness our love for Christ, one another and our Roman Catholic faith.
ALL Kolbe Members participate in the Apostolate's spiritual benefits.
We take the universal call for holiness and the New Evangelization seriously by striving to incorporate these FOUR IMPORTANT PRACTICES INTO OUR DAILY LIVES:
DAILY PRAYER
We ask the intercession of the Immaculate Heart of Mary and St. Maximilian Kolbe as we pray:

a daily Hail Mary for the Kolbe Eucharistic Apostolate Intentions and all of its members.
Morning Offering each day to Jesus through Mary
for all priests, especially those who minister to this Apostolate
for Mary's S.O.S. (Mary's Salvation Of Souls) check for information
the rosary (in the car/bus...) and attend daily Mass when possible

DAILY CONVERSION: To deepen our relationship with God, we:

make a daily examine. Frequent confession is encouraged.
consecrate ourselves to Mary, "totus tuus", and wear her Miraculous Medal
spend time in quiet prayer (suggestion: scripture meditation)
"Look to the face of Jesus": We talk to Him, uniting our heart to His throughout the day.

FAITH FORMATION: We also

deepen our Catholic Faith through daily spiritual reading. We familiarize ourselves with the best authors on our faith: the Popes, the Saints, the Catholic Catechism of the Church ...
In Toronto, check out the Kolbe Eucharistic Apostolate's catechesis and faith formation Know Your Faith Series

DAILY WITNESS OF OUR FAITH: In addition, we:

practise 'love and unity': "Love one another as I have loved you"
show respect in thought, word, and deed for Jesus Present in the Holy Eucharist.
Practise "love and unity", by loving Christ in others
share our faith with others; We also invite others to Mass, Eucharistic Adoration, prayer groups...